Lifespan Premium Treadmill Computer Desk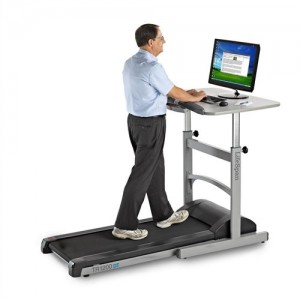 This is a high end treadmill desk perfect for those that work from home and are looking to get into shape, its a common problem when you work from home that you get a bit out of shape and used to a life without exercise but with the Lifespan Premium Treadmill Computer Desk you can put an end to that couch potato body whilst still being able to complete all of your work.
This treadmill desk from LifeSpan includes a sturdy work surface measuring 46.5″ W and 31″ D to easily support your laptop, printer, computer display, and other electronic devices. It includes padded arm rests to ensure lasting comfort, and wire management with a cable tray tucked under the desk.
This treadmill can operate for hours at low speeds without overheating or creating excessive stress on the motor and electronics, as the motor and all parts have been designed specifically for the treadmill desk! Its maximum speed is 4 mph.
This desk is fully adjustable and comfortably fits users from 4'10" to 6'8″ tall. Even at the highest setting, this table will remain stable. The desktop frame is unattached from the treadmill and stands alone, ensuring that any movement of the treadmill stays isolated and is not transferred to the desktop.