LifeSpan Fitness TR3000i Folding Treadmill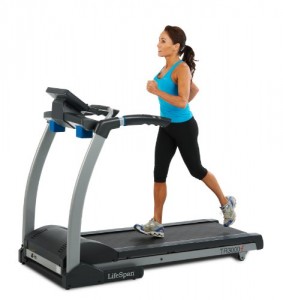 ---
Get The Best Deal
See Special Price
$1,999.99
---
The LifeSpan TR3000i folding treadmill is a durable, reliable machine and loaded with valuable features, helping you walk, jog, or run with confidence in the comfort of your own home. The award-winning TR3000i treadmill's pleasing design includes safe and convenient handlebar controls, which let you control your speed and incline without ever removing your hands from the handlebars. As a result, you can run or walk without fear of losing your concentration or balance while adjusting your pace.
The centerpiece of the TR3000i treadmill, is the multicolored LCD console, which offers a variety of preset workout programs that help you vary your exercise routine which is perfect for runners that want to work up to a specific goal by testing their body with different workouts. The center console offers several simultaneous readouts and exercise programs to help you achieve your health and fitness goals. The display tracks your time, calories, distance, steps, heart rate, speed, and incline level, with large soft-touch keys helping you get started and control your momentum.
Other details include a set of built-in speakers and a headphone plug-in, making it easy to listen to music as you walk or run; a large front safety bar that's designed and positioned for easy access; an EZ Drop folding design that lowers the treadmill deck to the ground softly and lightly; and an Intelli-Guard automatic safety pause that stops the treadmill belt from moving when no one is walking or running on the treadmill.