Lifespan Fitness TR1200-DT5 Treadmill Desk Combination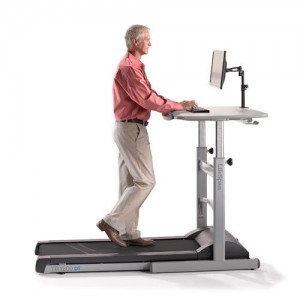 ---
Get The Best Deal
See Special Price
$1,724.99
---
The Lifespan Fitness TR1200-DT5 Treadmill Desk Combination is the perfect way to integrate exercise into your daily routine. If you are constantly using the excuse that you haven't got the time to exercise or you just have too much work to do well now is your chance to do both at the same time. This amazing machine has a larger 2.25 HP High Torque motor designed for those who want to use the treadmill desk for up to 6 hours a day. It includes a sturdy work surface measuring that will easily support your laptop, printer, computer display and other electronics devices.
Dimensions: Treadmill: 74in L x 47in W
Treadmill Weight: 205 lbs
Desktop: 31in D x 46.5in W
Desktop Weight: 88 lbs
Height Adjustment: 36in- 52in (Supports Users 4ft 10in – 6ft 8in) Step Up Height: 5in
Belt Size: 20in L x 56in W (Walking Surface)
The TR1200-DT5 Treadmill comes with a unique safety feature called Intelli-Guard, Intelli-Guard automatically stops the belt if you step off during your workout avoiding all accidental slips when trying to get back. In addition, this new console is Bluetooth-enabled so you can connect wirelessly to your Windows or OS X computer to automatically track results while you exercise. Get working on your fitness while you work with the Lifespan Fitness TR1200-DT5 Treadmill Desk Combination!