Exerpeutic TF1000 Walk to Fit Electric Treadmill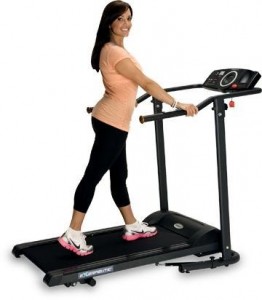 Exerpeutic TF1000 High Capacity Walk to Fit Electric Treadmill with Pulse Monitor
Walking on the Exerpeutic TF1000 treadmill is one of the easiest and most effective ways to get fit. Unlike outdoor walking, treadmill fitness walking has the benefits of shock absorption and the convenience of exercising in your own home. Fitness walking can help you lose body fat, tone muscles and is a great way to stay in shape. Studies show that using a walk to fitness treadmill two or three times a week achieves much the same results as an intense exercise of any technique.This machine will allow you to walk your way to fitness.
MOTOR RATING: 1.5 Horse Power High Torque Motor. High Torque means that any resistance applied to the belt increases the motor's power. The motor utilizes "Quiet Drive" which reduces any noise when walking so that there is no sound interference with TVs or music.
PULSE MONITOR: Measure your target heart rate.
EXTENDED WIDTH: The treadmill belt has been widened to a fitness club size of 20″ for safety and security.
SAFETY FEATURES: Extra long safety handles are 18″ long, more than twice the length of other typical treadmill handles, providing for walking securely preventing any loss of balance. The ground level walking surface allows for easy on and easy off of the treadmill.
EXTENDED WEIGHT CAPACITY: Tested up to 400lbs of user weight.
HEAVY DUTY FRAME: The frame has been reinforced to accommodate a high weight capacity capability with wide side rails for a foot platform, if needed.
SPEED RANGE: Speed adjusts in small increments up to a maximum of 4mph. At 4mph you can achieve a very rigorous fitness walking workout without needing to run.
MANUAL INCLINE: 2 position manual incline
WARRANTY: Five years
DIMENSIONS: 51.2″L x 32″W x 63″H
This walk to fitness machine could be the best investment you ever make. It will help you on the road to fitness. Fast delivery.