Exerpeutic 2000 WorkFit High Capacity Desk Station Treadmill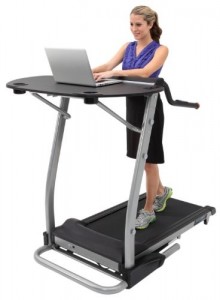 ---
Get The Best Deal
See Special Price
$999.99
---
Walking on the Exerpeutic 2000 Desk Station Treadmill burns 4 to 5 times the calories, up to 500 extra calories, than if you were just sitting at your desk or couch doing the same things. Treadmill Fitness Walking is an effective way to burn extra calories and achieve a healthy lifestyle. Now you can lose weight while you work on your computer, talk on the phone, or take the time to read.
You can cruise the internet, check and reply to your emails without ever changing your schedule or routine and at the same time getting fit and healthy. Combining both work and exercise this treadmill will help you kill two birds with one stone, it will also help increase your productivity. Just simple walking on your Exerpeutic 2000 Desk Station Treadmill, can improve your mental alertness and can even improve your overall well being.
Tested up to 400lbs of user weight. 4ft x 2ft Desktop can take up to 50 lbs of weight. * 1.5 HP "Quiet Drive" Motor which reduces any noise when walking and working * Measure your heart rate using the pulse sensor pads
Treadmill belt is Fitness Club wide measuring 20"W x 40"L * 18" Extra-long safety handles with convenience buttons for speed and incline.
Speed Range starts at .4mph and up to 4 mph via .1 mph increments *Power Incline adjustment range from 0% to 15%
Treadmill and desk fold for storage *Computer display window that features elapsed time, distance walked, calorie burn, speed and heart pulse monitoring.
Desk accessories include 2 cup or article holders, an AC outlet station and a pre-drilled hole for cords *Large enough to accommodate a full size keyboard, monitor, mouse couple of peripherals and a phone.
SET UP DIMENSIONS: 70"L x 36"W x 60"H SET UP WEIGHT: 167 lbs* Extra long safety handles are 18″ more than 2 X the length of other typical treadmill handles.