Confidence GTR Power Pro Motorized Treadmill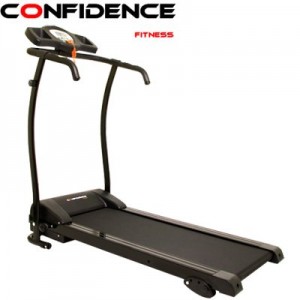 ---
Save 70%
See Special Price
$999.00
---
If you are looking for the best deal around, the Confidence GTR is a high end treadmill that has now been slashed down to under a third of its original price. If you are serious about getting into shape and want a treadmill to match you can't go wrong with the GTR and now its price has been significantly dropped you don't have to pay a small fortune to but the ultimate fitness machine.
Minute for minute, treadmills are the ultimate fat burning machine, eliminating up to 900 calories an hour. The Confidence GTR Power Pro treadmill is a fantastic machine and is one to be very proud of owning. It has an adjustable manual incline (3 settings), a top speed of 7.5 mph, 12 built in fitness programs, a heart rate monitor and many more features that make this a great treadmill at an unbelievable price. The Confidence GTR is ideal for people new to running and those looking to shed a few extra pounds, and with it's folding design and wheels, it's so easy to store and roll away.
Features include a 1.5 hp power motor. Runway Size: 43.5″ x 15.75″. Full product size: 52″ x 25.2″ x 52″. Folded dimensions: 54″ x 25.5″ x 23″. Weight of machine: 62 lbs Weight & Size of delivered package: 56″ x 27″ x 11″ 68 lbs.
The Confidence GTR has been specifically designed for home use, bringing all the quality of a gym treadmill into your own home.