Confidence Power Plus Electric Treadmill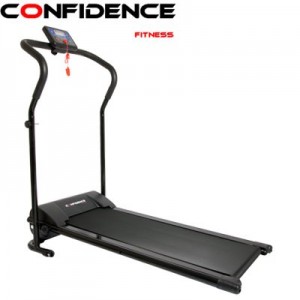 ---
Get The Best Deal
See Special Price
$550.00
---
The Confidence Power Plus has  been cut down to its lowest price yet, you can now save a staggering amount on this awesome treadmill. If you are looking to have a casual workout or are new to using a treadmill then you won't be able to find a better treadmill to start out with than the Confidence Power Plus.
Treadmills are the ultimate fat burning machines but often cost an arm and a leg, if you want a high quality treadmill but at an affordable price then look no further than the Confidence Power Plus, you will be able to eliminate up to 900 calories an hour.
The Confidence Power Plus treadmill is an affordable machine that gives you all of the benefits of the high end machines but at a fraction of the price, so you can be burning fat without the hassle of having to go to the gym or bracing the weather. This machine is ideal for people new to running and those looking to shed a few extra pounds, and with its folding design and wheels, it is easy to store and roll away.
Specifications:
600W power motor
Runway Size: 38.5″ x 14″
Full product size: 49″ x 24″ x 11″.
Weight of machine: 53 lbs
All in all, this is a terrific treadmill – and its great value for money too.