Best Choice Products Pink Electric Motorized Treadmill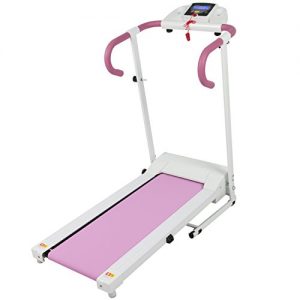 Ever wondered why so many treadmills are black and boring? Ever fancied a pink treadmill? Well, you are in luck, as now you can have one. With this pink treadmill, your home is your gymnasium. This top rated pink treadmill features a multi-function display so you can track your progress, and as a bonus the machine is nice and easy to fold up for easy storeage.
The Best Choice Products Electric Motorized Treadmill is no slouch though as it has a 500W motor.
SPECIFICATIONS: 250 lb weight limit, Rated power: 500W, LED display screen: Speed/ Distance/ Time/ Calories/ Scan, Rated voltage: 110V, Rated frequency: 60Hz, Runway size: 39.75″ x 13.5″, Overall dimensions: 47″(L) x 24″(W) x 46.5″(H), Folded dimensions: 50″ x 24″ x 19″
MATERIAL: Frame: Heavy-duty steel, Control panel: ABS, Handrail: foam, Running belt: PVC.